aliskye
I can't remember if I posted the finished scroll here or not. (I know I posted it to Facebook)
So here it is: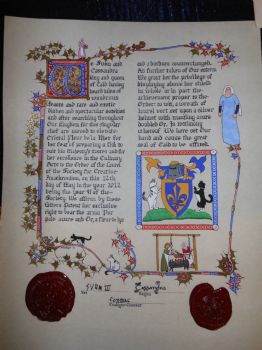 I worked on it up to the weekend before Coronation (which was Memorial day weekend) and it pretty much sucked up my entire weekend. I did get out to the movies and dinner with a friend but the rest of the weekend was hunched over my dining room table painting.
I was disappointed that the house is such a mess that I couldn't work in my designated art corner but I started working on cleaning up.
I completely cleaned out my front closet last weekend and it makes me happy now to look inside. Yesterday I completely cleared off my desk (I still need to do the shelf under the desk but I can't really see that. :)
I bought 4 plastic bins at Big Lots and tagged them for toss, keep and recycle. The fourth one is for putting everything in that I'm working on at that moment. I need to pick the next spot to work on.
And today is role-play gaming over at a friend's house. We're starting a new campaign. And I need to do laundry and go for a walk when I get home. Full day!